Monticello Antique Marketplace
(503) 256-8600
8600 SE Stark St
Portland, OR 97216
Unique Antique Shops in Portland, Oregon
W
hen compared to typical antique shops in Portland, Oregon people know that we're a destination worth coming to!
2
0,000 square feet filled with over 100 dealer spaces, salvage garden, furniture showroom and our very own Monti's Cafe.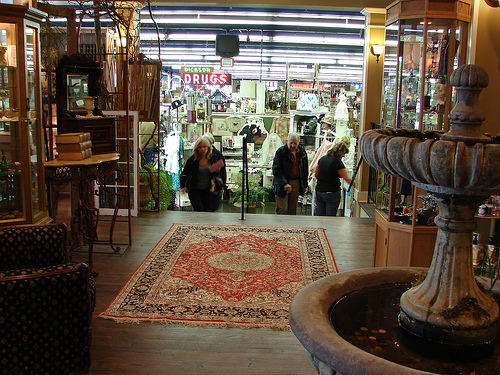 We offer a showroom full of quality furniture.
We have a Salvage Garden showroom full of yard, patio and garden furniture, iron, wicker, gazebos, arbors and much more!
We host three shows a year in our Garden Showroom featuring guest exhibitors displaying their vintage treasures. Check out our Schedule of Events for Show dates and see what else is happening at Monticello Antique Marketplace!
We also have our own Monti's Cafe! Featuring fresh baked goodies, coffee, wine, beer, and lunch specials. Enjoy shopping with a champagne mimosa! Our cafe is combined with a library full of books and magazines. These books can also be purchased.
Come spend an afternoon with us and check out our antique shop. Our staff is ready to help you! Portland, Oregon shoppers know that we're the place to find real treasures.